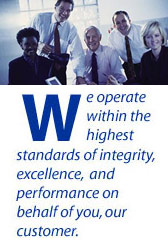 As an independent consulting firm, Telecommunications Source Group works in your company's best interest. We are structured so that your company will get the right solution, the best price and quality service through the life of the contract. Telecommunications Source Group provides an assortment of competitive voice and data solutions through a variety of established carriers. As our client, your company will receive billing audit services, consulting services, network design, telecommunications services, and account management.

Here are some issues your company has probably encountered in dealing directly with a telecom carrier:

• Direct carrier representatives tend to act in their own company's interest first instead of recommending the right solution for your company.

• The carrier representative that signs up your company often won't remain with you through the life of the contract.

• His or her replacement (if you get one at all) has a quota to fill first and foremost, and may not be aware of any specific billing and service issues.

With our "carrier-neutral" knowledge and expertise, we will help you find a voice / data solution that best suits your company's unique needs and budget. We will serve your company through the life of the contract and beyond as your advocate to ensure an enduring relationship based on trust and integrity.